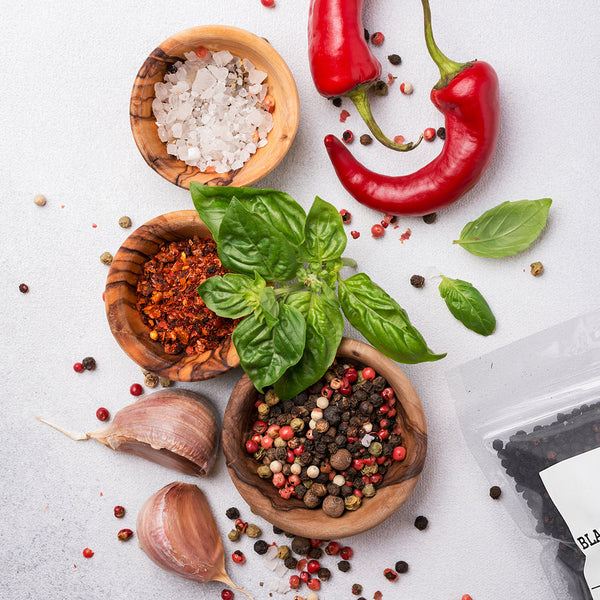 Chilli Salt & Pepper
Product Code: BUNCHSAP
Product
Info
Technical
Delivery
Reviews
Info
DESCRIPTION
Product: Chilli Salt & Pepper

Description: Let's spice up everyday seasoning with our blend of Chilli Salt! We can't get enough of the appearance of crystal salt coloured with flecks of red jalapeno, tomato flakes, chilli, cumin, onion, and garlic (we have serious heart eyes for this one). Don't even get us started on the mouth-watering, fiery flavour… Introducing salt's best friends… Black Peppercorns! Every kitchen needs a stash of this popular spice. Bring the bold, aromatic, and woody flavours we all know and love to your recipes today.
Bundle Includes:
1 x 100g Chilli Salt
1 x 100g Black Peppercorns
SUGGESTED USE
Replace table salt with Chilli Salt and add to general cooking to give some heat to your dishes! It's fantastic on homemade wedges, pizza, soups, and vinaigrettes… Black pepper is one of THE most versatile spices out there and can be used in all kinds of savoury and sweet recipes. Whole peppercorns can be added to pickling vinegars, brines and to marinades, soups, and stocks. Try grinding peppercorns in a peppermill and add to biscuits, salad dressings and sauces or simply use as a classic condiment.
DISCLAIMER
You should always read the label before consuming or using the product and never rely solely on the information presented here.
Delivery
DELIVERY INFORMATION
We offer a number of different delivery services, allowing you to take control and choose how quickly you'd like your order delivered; the exact delivery options available for your desired destination, will be displayed to you in the checkout.
WHEN WILL MY ORDER BE DISPATCHED?
Orders placed before 2pm (Monday to Friday) will be dispatched the same day; orders placed after 2pm (or on the weekend) will be dispatched the following working day.
MY BUSINESS HAS SPECIFIC DELIVERY REQUIREMENTS
Please contact our sales department before placing your order, via email on sales@justingredients.co.uk or call our team on +44(0)1291 635525.
Why not try...
---