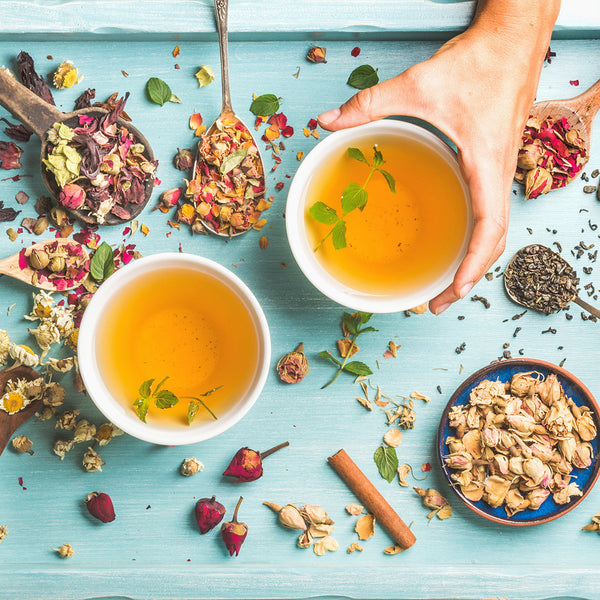 Herbal Tea Bundle
Product Code: BUNHT
Product
Info
Technical
Delivery
Reviews
Info
DESCRIPTION
Product: Herbal Tea Bundle

Description: We've pulled together our best-selling blends of loose-leaf teas, specially curated for you to ditch the tea bags, save money and quench that thirst!
Bundle Includes:
1 x 100g Chamomile Flowers
1 x 100g Rooibos Tea
1 x 100g Green Tea
1 x 100g Peppermint Tea

SUGGESTED USE
Trouble sleeping? Reach for a pack of our resealable Chamomile, feeling fruity? Opt for Rooibos (also known as red bush tea). Sip on a healthy cup of Green Tea or pop the kettle on for a warming mug of Peppermint Tea! Steep in boiling water, strain and sweeten with honey or serve with lemon. Your tea collection just got tastier…
DISCLAIMER
You should always read the label before consuming or using the product and never rely solely on the information presented here.
Delivery
DELIVERY INFORMATION
We offer a number of different delivery services, allowing you to take control and choose how quickly you'd like your order delivered; the exact delivery options available for your desired destination, will be displayed to you in the checkout.
WHEN WILL MY ORDER BE DISPATCHED?
Orders placed before 2pm (Monday to Friday) will be dispatched the same day; orders placed after 2pm (or on the weekend) will be dispatched the following working day.
MY BUSINESS HAS SPECIFIC DELIVERY REQUIREMENTS
Please contact our sales department before placing your order, via email on sales@justingredients.co.uk or call our team on +44(0)1291 635525.
Why not try...
---