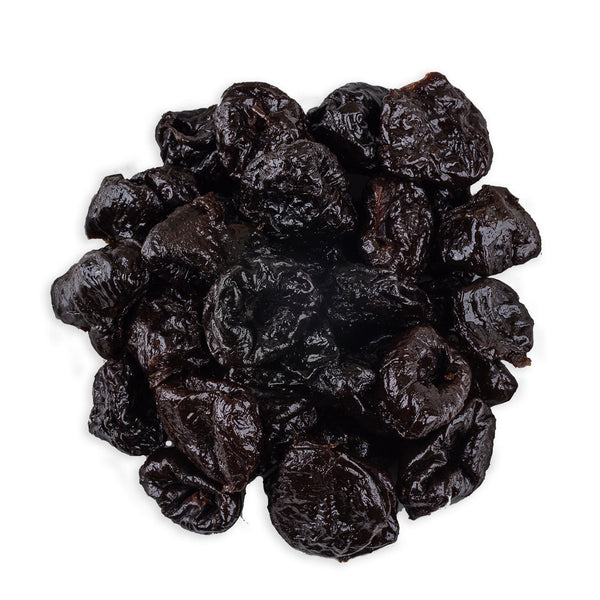 Organic Pitted Prunes
Product Code: 1625PRU
Product
Info
Technical
Delivery
Reviews
Info
DESCRIPTION
Product: Organic Pitted Prunes
Latin Name: Prunus domestica
Plant Family: Rosaceae
Other Names: Blue Plum, Damask Plum, Sugar Plum, and Zwetschge.
Description: Unleash your taste bud's wildest dreams with our Organic Pitted Prunes! Bursting with tangy sweetness and heavenly chewiness, these all-natural prunes are your passport to a flavour adventure. Packed with fibre and antioxidants, they're nature's secret to a happy tummy. Snack like a star and embark on a plumtastic journey with our irresistible prunes. It's prune time, baby!
SUGGESTED USE
Level up your snack game with a playful twist! Grab a handful of our Soil Association certified pitted prunes and turn them into "Prune Pops" – the ultimate fruity fuel for your adventures! Simply slide these chewy delights onto skewers, dip them in melted dark chocolate, and roll them in crushed nuts or sprinkles. Freeze them for a tasty frozen treat that will make your taste buds dance with delight. Prunetastic fun awaits!
DISCLAIMER
You should always read the label before consuming or using the product and never rely solely on the information presented here.
Technical
TECHNICAL INFORMATION TECHNICAL DOCUMENTS
Download technical documents.
Allergen Statement
JustIngredients Limited supplies a range of products that are internationally sourced from approved suppliers. Information is gathered from all suppliers to enhance knowledge of the product and supplier handling procedures.
The following products which are or contain allergens may be handled by approved suppliers on behalf of JustIngredients Limited; Cereals containing gluten (wheat, rye, barley, oats, spelt, kamut and their hybrid strains), Peanuts, Soybeans, Nuts, Celery, Mustard, Milk and dairy products, Sesame seeds, Products containing sulphur dioxide and sulphites at concentrations of more than 10mg/kg or 10mg/litre expressed as sulphur dioxide.
Handling procedures are in place to reduce the likelihood of allergens being present, however no guarantees are given that our ingredients are totally free of traces in the products supplied. If in doubt, please email technical@justingredients.co.uk.
Disclaimer
You should always read the label before consuming or using the product and never rely solely on the information presented here.
Delivery
DELIVERY INFORMATION
We offer a number of different delivery services, allowing you to take control and choose how quickly you'd like your order delivered; the exact delivery options available for your desired destination, will be displayed to you in the checkout.
WHEN WILL MY ORDER BE DISPATCHED?
Orders placed before 2pm (Monday to Friday) will be dispatched the same day; orders placed after 2pm (or on the weekend) will be dispatched the following working day.
MY BUSINESS HAS SPECIFIC DELIVERY REQUIREMENTS
Please contact our sales department before placing your order, via email on sales@justingredients.co.uk or call our team on +44(0)1291 635525.
Why not try...
---