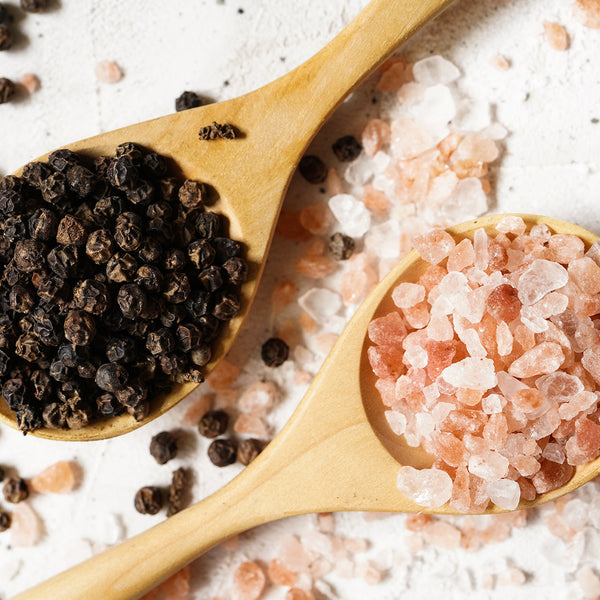 Pink Salt & Pepper
Product Code: BUNPSAP
Product
Info
Technical
Delivery
Reviews
Info
DESCRIPTION
Product: Pink Salt & Pepper

Description: Mixing things up in the kitchen can be as easy as swapping everyday salt for a pink version! Ideal for salt mills and grinders, gourmet chefs believe that Himalayan Salt gives a better texture and flavour to dishes than conventional table salt does and of course, you've got to pair it with classic Black Pepper...
Bundle Includes:
1 x 100g Coarse Pink Himalayan Salt
1 x 100g Black Peppercorns
SUGGESTED USE
Use to season meat and veg prior to roasting, sprinkle on top of homemade bread recipes, whip up a batch of salt and pepper tofu or mix into sweet treats. Add to salad dressings, sauces, soups, and stews or simply use as a classic table condiment.
DISCLAIMER
You should always read the label before consuming or using the product and never rely solely on the information presented here.
Delivery
DELIVERY INFORMATION
We offer a number of different delivery services, allowing you to take control and choose how quickly you'd like your order delivered; the exact delivery options available for your desired destination, will be displayed to you in the checkout.
WHEN WILL MY ORDER BE DISPATCHED?
Orders placed before 2pm (Monday to Friday) will be dispatched the same day; orders placed after 2pm (or on the weekend) will be dispatched the following working day.
MY BUSINESS HAS SPECIFIC DELIVERY REQUIREMENTS
Please contact our sales department before placing your order, via email on sales@justingredients.co.uk or call our team on +44(0)1291 635525.
Why not try...
---