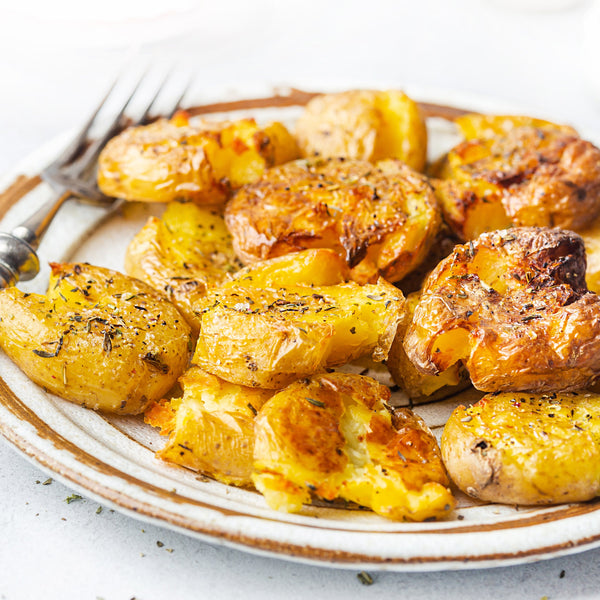 Ultimate Roast Potato Kit
Product Code: BUNURP
Product
Info
Technical
Delivery
Reviews
Product
Ultimate Roast Potato Kit
---
Info
DESCRIPTION
Product: Ultimate Roast Potato Kit
Description: The best part about any Chrimbo meal? It's got to be roast spuds! In this incredible bundle, you'll have everything you need to create the ultimate roasties and wedges (you just need to get your hands on some potatoes!)

Bundle Includes:

1 x 500ml Rapeseed Oil
1 x 100g Garlic Granules
1 x 100g Rosemary
1 x 100g Fine Sea Salt
1 x 100g Cracked Black Pepper

SUGGESTED USE
Peel and dice 2.5kg of potatoes, parboil them in a pan of boiling salted water for 15 minutes. Drain and leave to steam dry for 2 minutes then shake the colander to fluff up the spuds. Add 2 tablespoons of butter and 2 tablespoons of Rapeseed Oil to a large roasting tray, tip in the potatoes and add a pinch of Salt and Pepper followed by the Garlic Granules and Rosemary then toss to coat. Spread out evenly, cover and place in the fridge ideally overnight. Preheat the oven to 180C, roast for one hour or until crisp and golden. Gently half-squash each potato with a masher, roast for a further 20 to 25 minutes and enjoy!
DISCLAIMER
You should always read the label before consuming or using the product and never rely solely on the information presented here.
Delivery
DELIVERY INFORMATION
We offer a number of different delivery services, allowing you to take control and choose how quickly you'd like your order delivered; the exact delivery options available for your desired destination, will be displayed to you in the checkout.
WHEN WILL MY ORDER BE DISPATCHED?
Orders placed before 2pm (Monday to Friday) will be dispatched the same day; orders placed after 2pm (or on the weekend) will be dispatched the following working day.
MY BUSINESS HAS SPECIFIC DELIVERY REQUIREMENTS
Please contact our sales department before placing your order, via email on sales@justingredients.co.uk or call our team on +44(0)1291 635525.
Why not try...
---